The crowd is pumped and it's time for the first Hot Tag!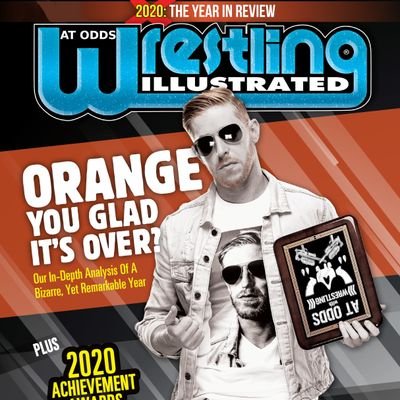 This week Kevin Hellions sits down for a one on one interview with Adam Van. Adam is the co host of the At Odds with Wrestling podcast. The House Show and At Odds have been podcasting friends from the start but this is the first time Kevin and Adam have spoken.
Tune in as we discuss the origins of his podcast. Adam's independent wrestling run. What drew Adam into comic books. Why he loves Azrael so much. How he has grown as a wrestling fan thanks to doing a weekly podcast. Why does he keep choosing terrible homework assignments? Most importantly, what exactly is an "Adam Van Special"? Finally, Adam tags Kevin with his own questions.
Look for the newest episode of At Odds with Wrestling every Thursday night or subscribe on your podcatcher of choice.
Follow Adam on Twitter @TheManAdamVan
Follow At Odds with Wrestling on Twitter @OddsWrestling
If you like the Hot Tag of the show, you can now read all of Kevin's show notes by becoming a Patron at the $5 level over at pateron.com/maskedlibrary.
Check out our new merchandise store! Tee Public link.
The Retro Network's own Kevin Decent (@MaskedLibrary) along with his two best friends "Sweet" Matty Treats (@MattyTreats) and Matt "the Educator of Excellence" began The House Show by reviewing WWF's In Your House pay per view events over the course of the worldwide quarantine. Next, they covered all of the WCW Halloween Havoc events finishing out 2020. Now in 2020, they will be going back to WWF for all the Saturday Night's Main Event shows. This trios team has been watching wrestling all their lives and debating the outcomes since high school. Invite them in your house each week for the main episode on Thursdays and The Run In on Mondays.
Contact The House Show across social media! Follow @TRNHouseShow on Instagram, Twitter, and Facebook. Watch along with each podcast by signing up for a 30-day free trial of the WWE Network. Watch all the In Your House, Halloween Havoc, and now Saturday Night's Main Event shows plus so much more from the '80s and '90s eras including Wrestlemania, Summerslam, and events from other leagues like ECW and NWA. Click the link here in the show notes and you'll also be supporting The House Show and The Retro Network as an official WWE affiliate.
Listen from the beginning! Subscribe to The House Show feed directly or search "The House Show" in your favorite podcast feed.