Since I'm fresh off making an appearance on the Wizards: The Podcast Guide to Comics show talking about the death of Superman, I thought this would be a good time to rehash the stories of how I got into comic books in the first place.
Ever since I was young, I've enjoyed comic books. Although I've never been a hardcore comics buyer or reader, I have dabbled in them from time to time, and my collection has expanded and retracted a lot through the years.
In the beginning, my older brother had a large collection of comic books that were kept under a table on our carport in the house I grew up in. During the summer months, I would pull out random issues and read through them. In his large pile of comics, there was Justice League America, Unknown Soldier, Sgt. Rock, Fantastic Four, Batman, Incredible Hulk, Mad Magazine, and Cracked.
Rainy days were whiled away kicked back on a sofa we had on the carport, watching and listening to it rain and reading issue after issue. Since they were kept on the carport, they ended up drawing moisture and thus any monetary value they had vanished. But that didn't matter to me. What mattered was the content inside.
We eventually let my Uncle come and take them all away when we were moving to a new house. I never saw any of those old issues again, and when we arrived at the new house, I no longer had any comic books to read.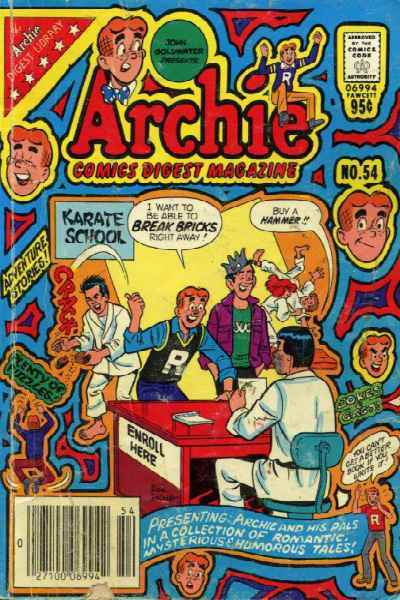 Eventually, I was turned onto the joys of reading Archie Comics. During the summer after we moved, we took a vacation, and my Mother picked up an Archie Comics digest to kill time while riding. Once she was done with it, I settled into the back seat and blew through the whole thing and loved it.
The characters of Archie, Betty, Veronica, Jughead, and Reggie populated a fun world that was filled with great supporting characters like Moose, Midge, Dilton, Josie, Big Ethel, and others. I soon found myself spending allowance money on new issues of the Digests and Double Digests of the Archie world. It wasn't long before a super-hero comic once again caught my eye.
While at the local Piggly Wiggly grocery store on a weekly shopping trip with Mom, an issue of Green Lantern caught my eye. I had been a fan of Green Lantern since the Superfriends cartoons, so I picked up this issue of Emerald Dawn #5. Unfortunately, I had no point of reference to the story since I picked up the 5th issue from a 6 issue mini-series.
Even though I had no clue what was going on in the story, I went back and picked up the 6th issue the following month. To this day, I'm a fan of Green Lantern and have picked up a lot of GL comics through the years when I've been back on the collecting wagon or was intrigued by different storylines.
I didn't really pick up many more comics from that point until the hype surrounding the Death of Superman storyline came out.
The Death of Superman was one of the biggest storyline events in the history of comic books. The hype surrounding this was unreal, and thus, the first print copies of Superman #75 sold out in record time. My brother had an interest in picking up the issue as a collector's issue, and I had an interest in reading it.
He took me to a local comic book and card store to pick up a copy, but they were already sold out. The dealer told us he would be getting more copies in and we should keep checking back. We went back every few days to see if he had gotten any in. My brother kept getting disappointed, but I just kept seeing more and more cool comics to pick up that I hadn't seen before.
One little gem that caught my eye was a copy of Wizard: The Guide to Comics. The issue that was out at that time was #17. There was really nothing special about the issue, but I was hooked on the contents of this magazine from the beginning. From then on, I picked up every new issue and would read it from cover to cover within a week of getting it.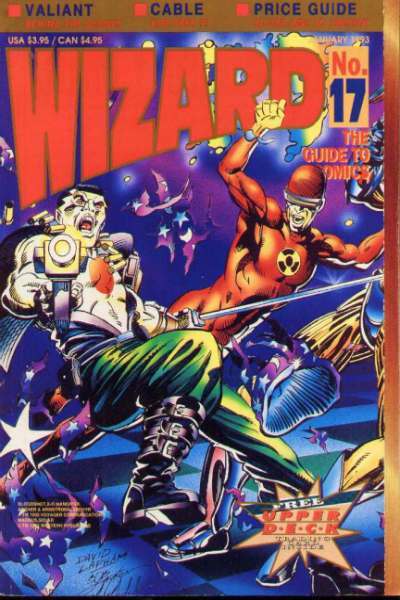 In the pages of Wizard magazine, I was turned on to many new and exciting comic books that I looked forward to picking up each week on subsequent visits to the comic book store. I eventually went on to pick up the rest of the Death of Superman saga, the follow-up Funeral for a Friend storyline, and the eventual Reign of the Supermen arc. It was the start of many years of enjoying comic books on a continuing basis.
That little old comic book shop went out of business at the tail end of the speculator market, but I had the opportunity to pick up a good many books there, some I still have in my collection. I've never stopped reading comics since picking them up all those years ago. I still read the occasional Superman title, but Batman took over the spot as my favorite years ago. Today, I read stuff like Hellboy, Walking Dead, and love reading old golden age tales, plus trades of all those fun stories from the '90s that I cut my teeth on.
So that's how fell into comic books, and why now I'm a huge fan of superheroes in all mediums. But what about you? Do you enjoy comics? If so, how did you get into them? What was the first comic you read? Tell me about it in the comments section below and we'll reminisce.
And if you were into comics in the '90s like I was, then you definitely need to be listening to Wizards: The Podcast Guide to Comics every week here on TRN if you're not already.
---
RIP "Bullet" Bob Armstrong
Pro wrestler "Bullet" Bob Armstrong passed away this week. While modern wrestling fans may not recognize the name, let me assure you that he was a trailblazer, and one of the most entertaining men to ever step into the ring. Either as himself, or his masked alter ego 'The Bullet', Bob entertained fans around the country spanning multiple generations.
Personally, I grew up watching Bob Armstrong. From the tail end days of Southeastern Wrestling, through it's later years as Continental Wrestling, his run in the NWA teaming with his son Brad, into the short-lived USA Championsip Wrestling, and then his great run as the Commissioner of Smoky Mountain Wrestling. Bob was always a favorite of mine, as he was quick to take the action to the bad guys.
His passing is sad in many ways. I feel sad for his family in their loss…I feel sad for his fans around the world…and I feel sad personally as another childhood hero is now lost to time. It's moments like these that make me realize just how old I actually am.
WWE has already put out a nice little tribute video for him that you can watch below, and go over and listen to the tribute on the Wrestling Memory Grenade Podcast.
---
Other Notes This Week
That's going to do it for this week, but be sure to check me out on The Retro Network Podcast each week, and you can follow me on Twitter @yesterdayville. Stay safe.